Access to the Arts Center

We are ready to welcome you!
Our volunteer ushers will greet and assist you!  Just look for their friendly smiles, white shirts and name tags.
We strive to provide programming for all ages
We are committed to providing diverse programming of interest on a wide variety of interests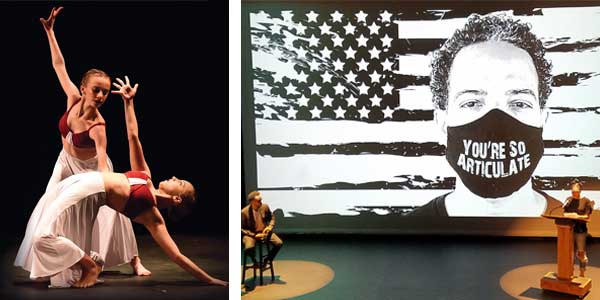 Thanks to our association with Arts For All  Loudoun, we have Sensory Backpacks for those who might feel overwhelmed by the theater experience: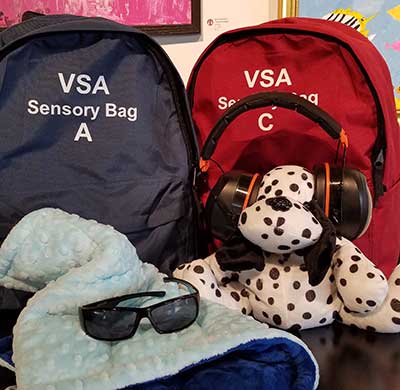 Frequently Asked Questions About Ticketing
How do I know if a concert or performance has been cancelled?
For the most up-to-date information please visit the Franklin Park Arts Center's Facebook page or call the box office at 540-338-7973 Monday-Friday from 9:00am to 5:00pm.
Why can't you take my credit card over the phone to purchase tickets?
County of Loudoun policy does not allow us to take a credit card by phone (for security purposes).  If you prefer not to make a purchase online, you can come into our box office and we can process your order in person.
Can I purchase performance ticket gift certificates?
Yes. Contact the Box office at 540-338-7973 Monday-Friday from 9:00am to 5:00pm for details.
Ticketing
Tickets for most of the performances in our season may be purchased online, allowing you to show a virtual/printed ticket at the door or simply check-in with your name. Please check each event for exact ticketing procedures or contact us at 540-338-7973 and we will answer any questions you have. Seating for all events is General Admission through August 2021.
Cancellation Policy
If Franklin Park Arts Center or the rental group decides to cancel a program, you will be notified by phone or email and we will also post something about it on our social media.  You will be offered a refund or ticket exchange for a future event.  Rental groups handling their own ticket sales may have a different cancellation policy, so please look at their website for information on cancellations.
If you need to cancel your ticket for a performance due to illness, emergency or COVID-related factors, please contact the Franklin Park Arts Center 540-338-7973 or send an email to Elizaeth.Bracey@loudoun.gov.   Classes and workshops cancellations will refund 50% if you cancel within 2 weeks of the program/event.  Performance tickets are generally non-refundable but we will do our best to honor requests, especially if there is a waiting list.  Our visitors often give their tickets to friends or family members when they cannot attend a performance and we encourage that!
Theater Map
263 seats
 4 sections – Center, Left, Right and Rear
12 seats that do not require going up or down steps
4 wheel chair spaces with companion seating
One-person lift to access stage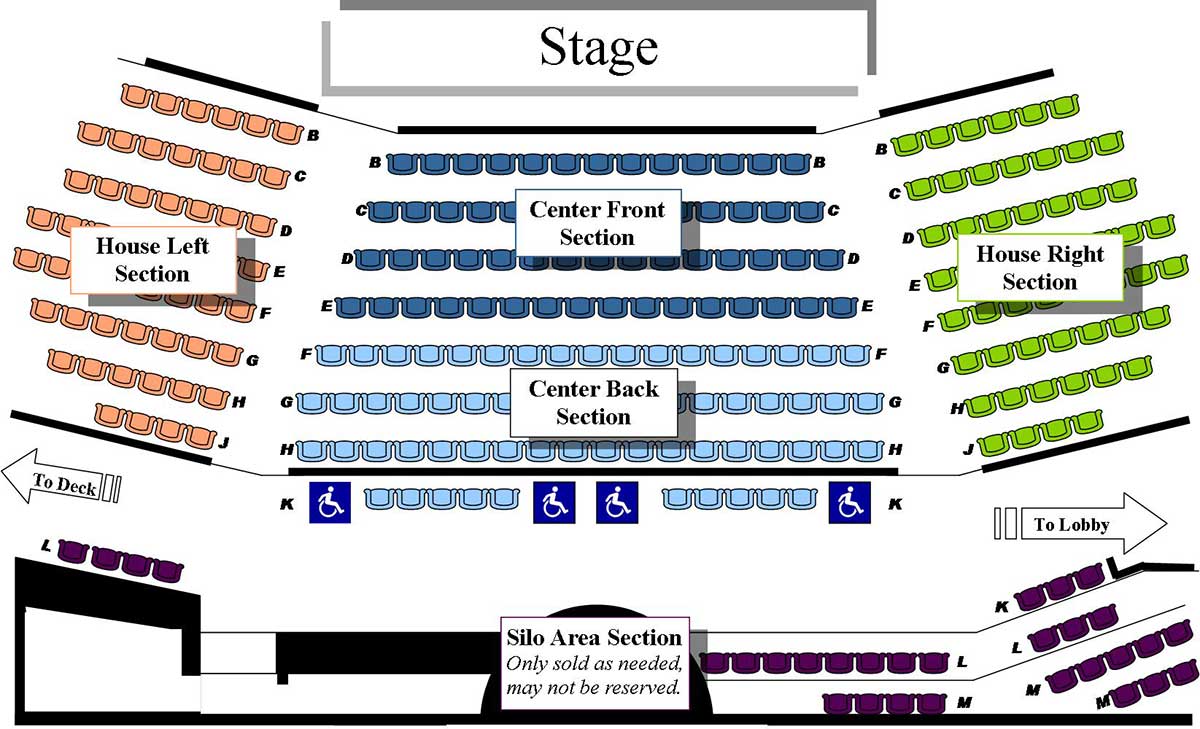 Parking Map
Parking is FREE and we have accessible parking in front of the building and to the right of the entrance, in front of the maintenance building
Drop-off/access road is one way and SLOW speed is required
Need accommodations?  Contact the Box Office 540-338-7973
Need directions?  We are located within Franklin Park and our physical address is 36441 Blueridge View Lane, Purcellville, VA  20132